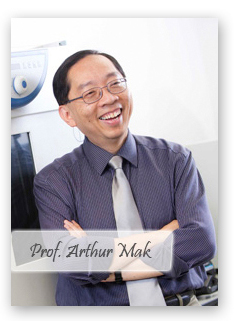 Arthur Fuk-Tat Mak
Adjunct Professor, Biomedical Engineering
BSc (UIUC), PhD (Northwestern), FAIMBE, FHKAAST, FHKIE, SrMIEEE

RESEARCH GRANTS AND COORDINATION OF LARGE SCALE PROJECTS
Regular external research grants as PI from NSF, RGC & Croucher: Totaling over HKD7M.
Other externally funded major collaborative interdisciplinary activities (as Project Coordinator):

Interdisciplinary Centre for Musculoskeletal Bioengineering and Rehabilitation Technology. UGC Central Allocation Grant (1994-96) HKD6M.
Strategic Development of Jockey Club Rehabilitation Engineering Center with Thematic Projects on Technology for the Elderly & the Disabled. HK Jockey Club (2003-07) HKD19.38M.
Joint Universities Consortium in Biomedical Engineering (including research education). UGC Reconstruction & Collaboration Fund (2007-09) HKD7.3M.