Overview
This articulated MPhil/PhD programme is Biomedical Engineering is offered by the Faculty of Engineering as an inter-disciplinary programme in close collaboration with the Faculty of Medicine, building on the strengths of the two Faculties in biomedical sciences and engineering with the aim to educate future leaders who can master the fundamental knowledge base an innovate technology to address various health and clinical challenges in our time and beyond.
Why CUHK BME?
CUHK is a world-leading comprehensive research university which has been consistently ranked among top universities internationally and in Asia Pacific region (e.g., globally ranked 47th according to QS ranking 2024). Only founded in 1991, the Faculty of Engineering has been already highly ranked in recent pollsters. The Division of BME was launched by the Faculty of Engineering in close collaboration with the Faculty of Medicine. There is a wide diversity of high quality research in BME fields in the Division. The Faculty members are PhD degree holders from the world's top universities (e.g., Caltech, Cambridge, Columbia, Cornell, Imperial College, MIT, etc.). Many of them also serve on the editorial boards of leading international journals and flagship conference organizing committees.
Financial Assistance
HKPFS awardees: HK$27,600 per month
Regular MPhil-PhD students: HK$18,360 - HK$18,870 per month
Admission Requirements
Meet the general qualifications required for admission to the Graduate School. Have a Bachelor's degree, or equivalent, in a relevant engineering, science, or medical discipline from a recognized university.
Interested in learning and acquiring new skills across disciplines to address the interdisciplinary challenges in biomedical engineering.
Applicants must also submit in English his/her CV, research outputs, an indicative statement of research interest or purpose of study (about 500 words), academic transcript (showing ranking in class if available), copies of awards (such as scholarships), certificates, and other honors received.
Study Scheme
M.Phil. Students
Ph.D. Students (Pre-candidacy)
Ph.D. Students (Post-candidacy)
Description of graduate courses
For more details, please download the file:

FAQ
What is BME?
What would you be studying?
Career prospects for BME graduates
About Hong Kong PhD Fellowship Scheme (HKPFS)
What is BME?
Biomedical Engineering (BME) is an interdisciplinary programme offered by the Faculty of Engineering in close collaboration with the Faculty of Medicine.
It involves the use of engineering principles to solve biological and medical problems for the welfare of mankind.
What would you be studying?
There are 3 main streams:
Stream 1: Medical Instrumentation & Biosensors
TeleMedicine, biofluids, neuroengineering, medical robotics
Stream 2: Biomedical Imaging, Informatics & Modeling
Bioinformatics, biomedical modeling, sound and light waves in medicine
Stream 3: Molecular, Cell & Tissue Engineering
Bionanotechnology, biomolecular engineering, musculoskeletal tissue engineering
Career prospects for BME graduates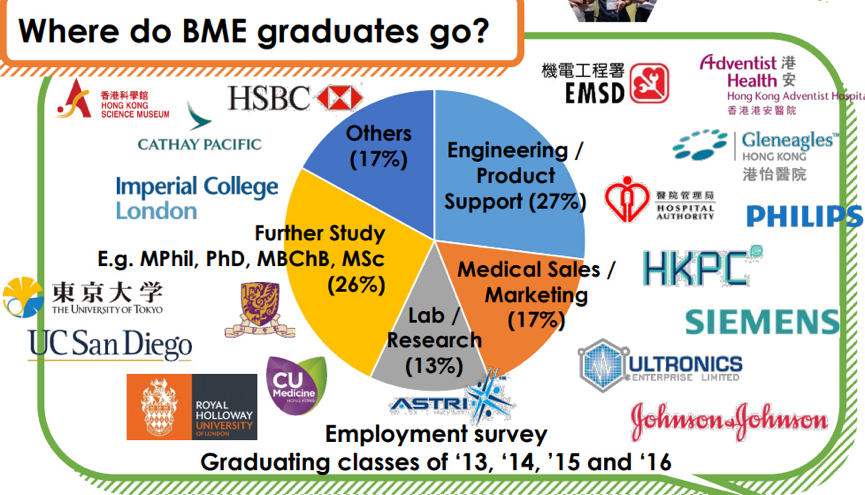 Scholarship (HKPS and summer workshop)